FOR YOUR EXPERIENCE AND PLEASURE IN NARA
Guiding you to find out more about our unique cultural heritage, beautiful scenery and history which you won't find in a guide book.
The making and 1300 year maintenance of the world's largest bronze Buddha statue
The unique preserved Nara Park with its embracing free-roaming tame deer
8 meter tall masterpiece sculptures by famous sculptor Unkei.
The world's one and only ancient Shosoin treasures cherished until today
Enjoy strolling through the Naramachi traditional old town neighborhood
Kasuga Shinto Shrine in its sacred primeval forest
Understand the blending together of Japan's natural religion Shinto and Buddhism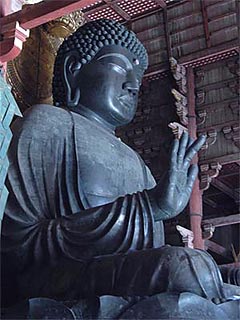 We would be more than happy to be with you
Nara City: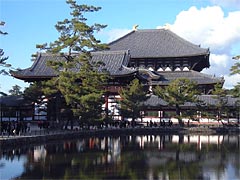 As an ancient capital of Japan in the 8th century,with a 1300-year history,
Nara has been enriched with numerous cultural and historical assets and beautiful scenery. To name a few, Todaiji and Kofukuji Temples,
Kasuga Shinto Shrine, Nara Palace Site, etc.
About SUZAKU:
Established in 1997, we began giving tours just before Nara's assets were designated as UNESCO World Heritage sites.
Staff membership is approximately 150 fully knowledgeable local Japanese residents.
A total of approx. 110 thousand guests last year welcomed, including students on school trips, and general visitors from both domestic and overseas.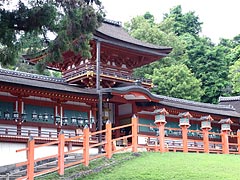 List of Our Links
japan-guide.com
Comprehensive, up-to-date information on traveling, first-hand from Japan.
Four Seasons in Nara
Notes
Tour guide in English within Nara city is available.
Use the application form below for a request one week in advance.
Fee: A minimum 1,000 yen a day (six hour max.) up to 7 guests is requested to support our NPO administration expenses. Incidental expenses i.e. transportation, lunch (or additional 1000 yen) for a whole day tour, etc. shall be borne by the guest.
SUZAKU Tour Guide will wear yellow-based uniform with an ID card.
When severe weather, i.e. typhoon alert, etc. is in effect, tour guiding may be cancelled.
"Nara Volunteer Tour Guide, SUZAKU" is not liable or responsible for any injuries, damages or losses of guests occurred during the tour.